Dear exhibitors, dear partners,
The 2022 edition of Educatech Expo took place at the end of 2022, but our enthusiasm has not waned. And for good reason: more than ever, you have responded present (280 exhibiting companies) to welcome more and more visitors (12,600 visitors or an increase of 20% compared to 2021). The new Minister of Education was not mistaken, he chose our exhibition to announce several important commitments in favor of equality between girls and boys in the digital sector, or the strengthening of digital education in high school.
A few months before the event, our conviction is simple: together, in 2023, we can go even further.
The news of the first months of this year encourages us to carry this ambition. With the important development of conversational and image creation tools, artificial intelligence has just made its comeback in the public debate, and questions the teaching pedagogy, the evolution of media education, as well as the place of the school in the acquisition of the necessary skills for tomorrow's professions.
The tense global context questions the robustness of our information systems, and puts the issues of sovereignty (both French and European) back in the spotlight. The French Ministry of Education confirms its commitment with the recent release of its national digital strategy for education, which sets ambitious new priorities until 2027.
These topics, and many others, will obviously be at the heart of Educatech Expo 2023. Thanks to you, they will be embodied by a rich ecosystem of innovative and ambitious companies, startups and associations, capable of convincing educational actors to commit themselves resolutely to the digital transformation of schools.
Make a note of the date and reserve your spaces: on November 15, 16 and 17, 2023, Educatech Expo will be more than ever the exhibition for educational innovation.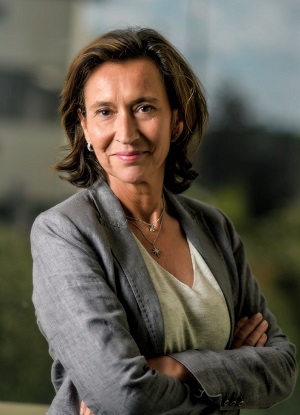 Ghislaine de Chambine
Director of Educ@tech Expo